INTEC delivers diploma certificates on the Dominican System for Quality
The delivery was made by the rector of the university, Julio Sánchez Maríñez, who highlighted that the graduate formed a technical commission more capable of knowing and making decisions about initiatives, resolutions, projects and quality programs.
SANTO DOMINGO. -The Instituto Tecnológico de Santo Domingo (INTEC) delivered certificates to the 36 participants of the diploma on the Dominican Quality System (SIDOCAL), which was carried out in coordination with the Dominican Council for Quality (CODOCA).
The training allowed to know the operation and performance of the entities that make up the national quality infrastructure, the functions of the Dominican Institute for Quality (INDOCAL), the Dominican Accreditation Body (ODAC), and the standardization, technical regulation, the fundamentals metrology, market surveillance and accreditation of conformity assessment bodies.
Julio Sánchez Maríñez, rector of INTEC, assured that, as a result of the training, CODOCA has a more qualified technical commission to know and make decisions about the initiatives, resolutions, projects and programs of INDOCAL, ODAC and the units of technical regulation of ministries.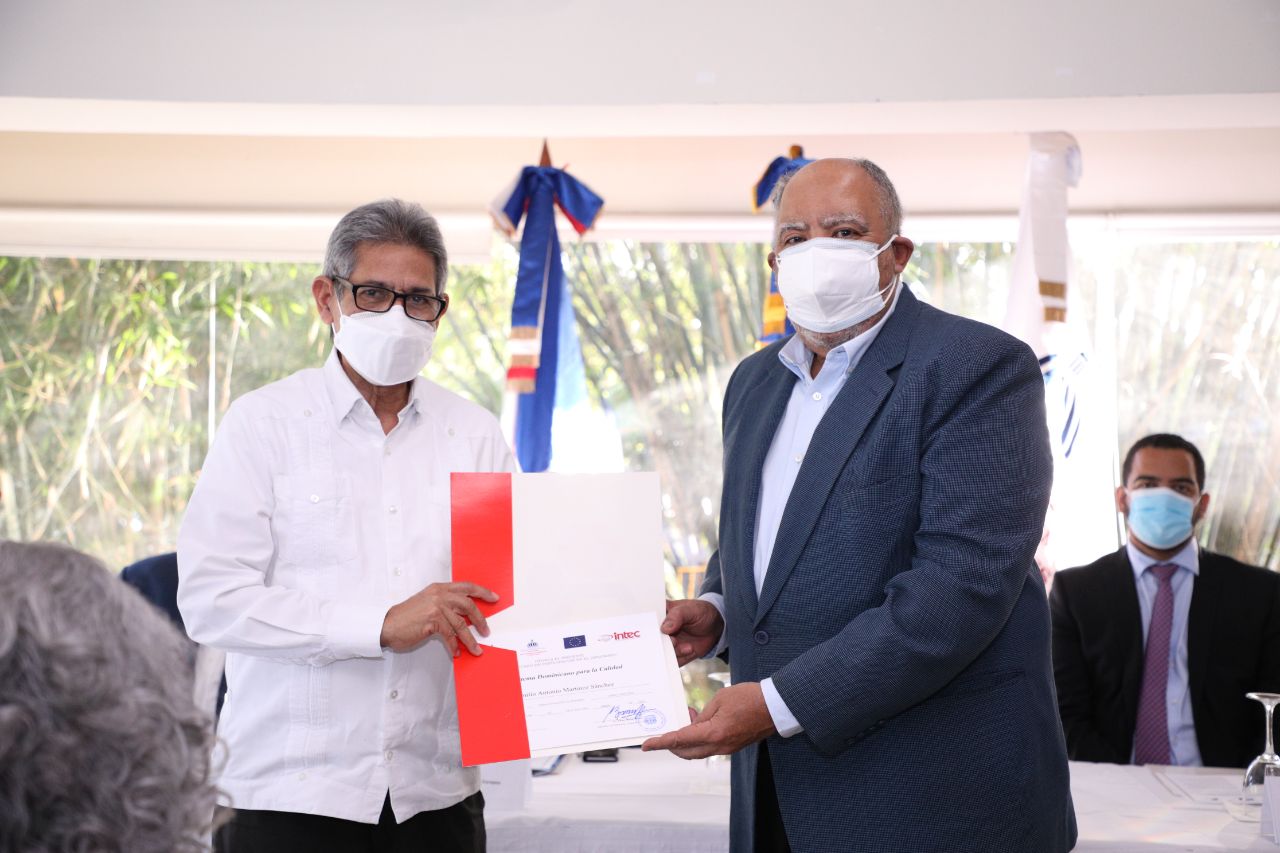 During the delivery ceremony, the new CODOCA website www.codoca.gob.do was also presented, a tool that will contribute to the dissemination of quality-related policies in the country and favor the efficient governance of SIDOCAL.
The launch of the web portal was led by the president of the Board of Directors of CODOCA and Minister of Industry, Commerce and Mipymes (MICM), Víctor -Ito- Bisonó; the ambassador of the European Union, Gianlucca Grippa; and by the Acting Secretary General of CODOCA and Vice Minister of Industrial Development of MICM, Fantino Polanco.
Also, by the general director of the Dominican Accreditation Body (ODAC), Ángel Taveras Difó; the director of the Dominican Institute for Quality (INDOCAL), Lorenzo Ramírez; and by the rector of INTEC, Julio Sánchez Maríñez.
The MICM minister described the CODOCA web portal as an "important step forward towards strengthening and modernization", because it will allow the sharing of all the technical information that technical representatives need to decide on highly specialized issues in the areas of metrology, standardization. , testing, accreditation and certification.
Meanwhile, Gianlucca Gripa, ambassador of the European Union (EU), explained that the initiative is one of the components that make up the Quality Strengthening Program for the Development of MSMEs, which is sponsored by the European Development Fund, and added that the EU will continue to accompany the Government on quality issues.
On his side, Fantino Polanco, CODOCA's interim general secretary, was in charge of presenting the portal and some of its functionalities; He stated that this connectivity instrument will facilitate collaboration and efficient communication between the technicians and the General Secretariat of the Council, through its Intranet.