See you soon, Mrs. Lucero and Don Manuel!
El Instituto Tecnológico de Santo Domingo (INTEC) performed a farewell ceremony to Lucero Arboleda and Manuel Roa, who served the university for 44 years at the Emilio Rodríguez Demorizi Library
SANTO DOMINGO. - The March XNUMXth It is not, nor will it be an ordinary day for Lucero Arboleda and Manuel Roa, precisely that day, 1970 , they gave their first kissand fifty years later of that memorable date, on March XNUMX they will also remember it as the day on which they said goodbye to their professional home Emilio Rodríguez Demorizi library . Instituto Tecnológico de Santo Domingo (INTEC).
The Julio Ravelo de la Fuente Room was the place chosen to dismiss those who conceived the Library, who were surrounded by their beloved people, their INTEC friends. An audiovisual produced by the filmmaker and teacher of the INTEC Film career Pablo Lozano, recalled the trajectory of the couple of librarians who, together with Rafael Toribio, past rector of INTEC, came to the hive.
The tears could not be contained while watching the audiovisual, Mrs. Lucero and Don Manuel cried, so did many of those who accompanied them to say goodbye, after 44 years of serving the institution and to make sustained contributions for their consolidation and development.
In delivering a speech on behalf of both, Arboleda stressed that his transit through INTEC can never be referred to any concept that means loss.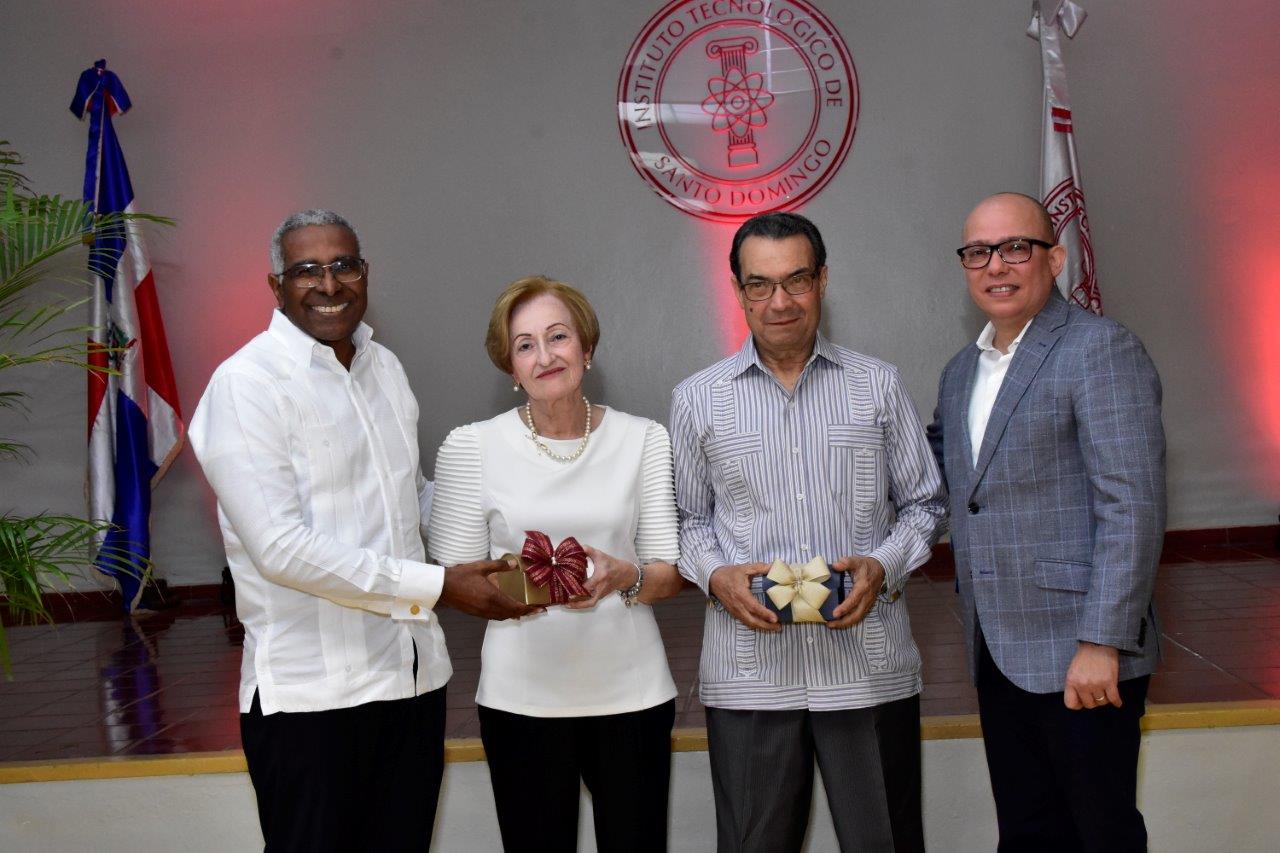 "We agree with Leonardo Boff" that the head thinks from where the feet step on, "and our feet stepped on fertile land, the land of INTEC. The land that settled in a slender geography a young and solid institution, destined to coin dreams and turn them into vibrant realities. Therefore, our thoughts will be here, where we have walked for 44 years, "said Mrs. Lucero, who was in charge of the INTEC Library Directorate.
He said that the INTEC community will have the eternal presence of those who are no longer physically, but spiritually bet forever on their strength, leadership, ability to promote, through education, the best values.
"From this community, and through its people and characters we have obtained in the daily journey the most powerful lessons, because in it we have been able to exercise our beloved profession, library science," said Arboleda.
He pointed out that "we must agree that for human beings there are two crucial moments, the first hello (1976) and this goodbye (2020). Between one and the other, Manuel and I placed in the middle lived moments with people, with unforgettable human beings like each one of you, sometimes as fellow students, teachers or fellow commissioners or working groups, but always giving us the face of shared yearnings. "
By saying some welcome words on the spot, Rolando M. Guzmán, rector of INTEC, stressed that for four decades, Arboleda and Roa have been tireless workers that, with a patience of bees, they have built a library on inteciano soil which is a clear reason for pride for the academic community.
"To imagine INTEC without them is certainly a challenge to the imagination and that when we meet for this farewell it is natural to have a confusing mixture of feelings. I am sure that for many it is a time of nostalgia; for others, it will probably not be a moment of apprehension; and in my case, the predominant feeling is gratitude, "said Guzmán.
He thanked in the name of the community intenciana for the example of vision, work and extreme honesty that the couple has given, knowing at the same time that this moment of farewell is just a change in the way of relationship with them.
"Don Manuel and Mrs. Lucero, not by flattering them, but so that they know, I can declare with certainty that the work they leave with us represents a contribution whose meaning will grow over time and that INTEC will never forget it," said the rector.
Meanwhile, the Vice Chancellor for Research and Linking, Víctor Gómez-Valenzuela, stressed that his modest and rudimentary knowledge Arboleda and Roa, has been able to assess the vastness of a life united by the singularity of love for books and for the service to dispense knowledge to those who humbly go to the rooms of worship, whether physical or virtual.
"Doña Lucero and don Manuel tell us a forever, but they leave us a great commitment to the values ​​they embodied in this library. They tell us forever in a leap year, that as in 1976 it is being a prelude to major changes in political, economic and social cycles such as those currently in our country and around the world, "said Gomez-Valenzuela.
At the end of the event, the last dean of the Health Area, Raymundo Jiménez, awarded a gift of roses as a symbol of thanks for the trajectory. Similarly, Arboleda and Roa received institutional presents, and recognition plates for their contributions to knowledge management and national librarianship, in their more than 40 years of uninterrupted contributions to the university, from the rector and vice-rector.
The event was attended by the past rectors of INTEC Ramón Flores, Rafael Toribio, Altagracia López and Miguel Escala, as well as José Agustín de Miguel, pedagogical advisor INTEC and Camilina Torres, advisor of academic counseling and past administrative assistant of Arboleda and Roa. Also, Mrs. Linda "Santica" Dominguez, past administrative assistant of Arboleda and Roa, and a representation of the collaborators who worked with the couple at different stages were present. The presence of several members of the Association of Dominican University Libraries (ABUD) was noted.