Permanent Education of INTEC will teach a program in Senior Management in Digital Transformation
The Directorate of Permanent Education of INTEC, in conjunction with Ideox, will virtually teach the "Senior Management Program in Digital Transformation", designed to support those who wish to be conceptual disruptors in their companies.
SANTO DOMINGO. –In order to support those who wish to be conceptual disruptors, accelerate the adaptation and transformation of thought models, the Directorate of Permanent Education of the Instituto Tecnológico de Santo Domingo (INTEC) will give for the third time the Senior Management Program in Digital Transformation.
INTEC together with Ideox were pioneers of this international program in the Dominican Republic, which has been designed to impact the culture, processes and tools of organizations, to ensure the permanence of these and their leaders at this time of constant transformation to the digital world.
The entities took into account that, at present, the success of organizations and businesses is determined by the ability and capacity to transform towards the digital world, as evidenced by the COVID-19 coronavirus with its arrival.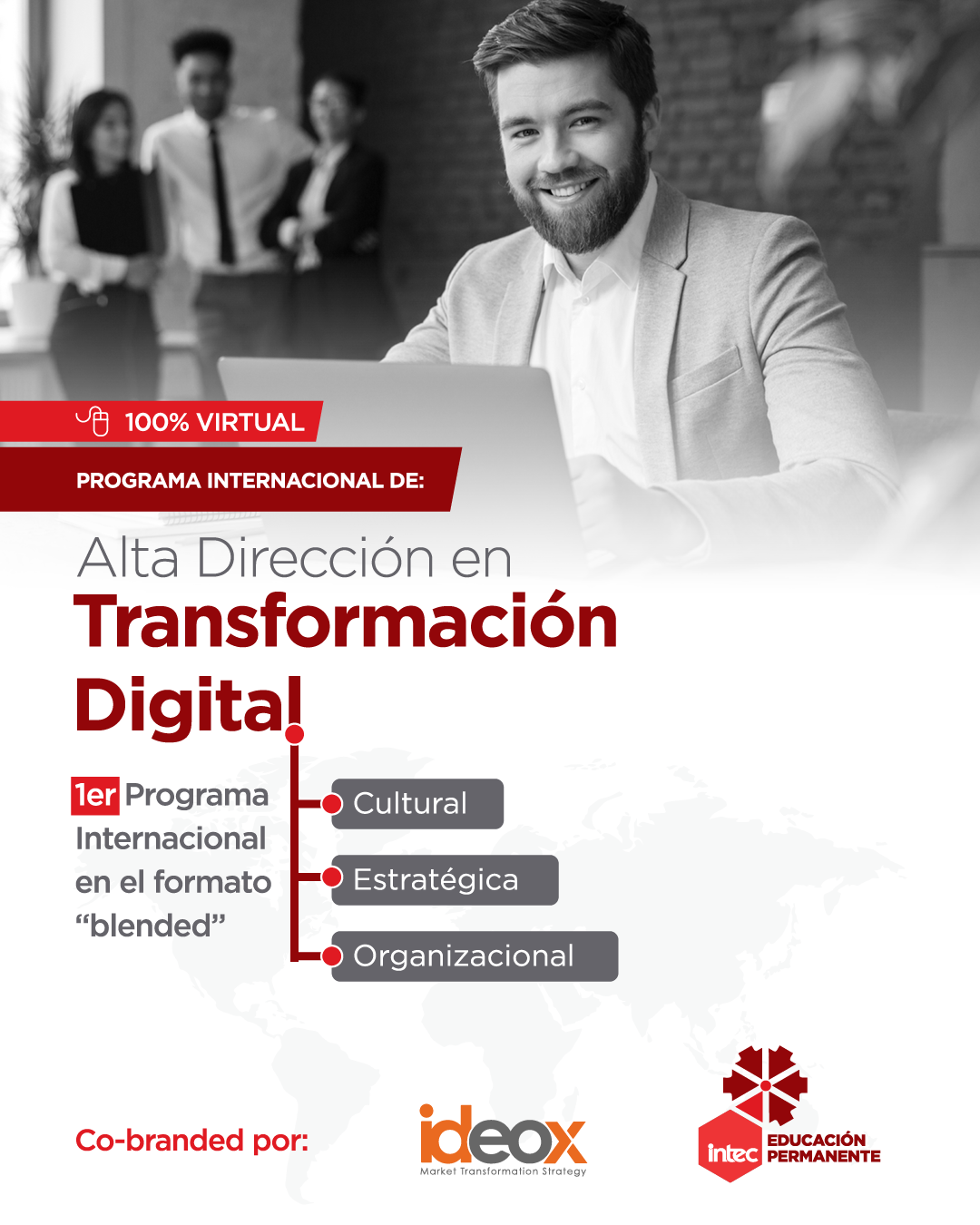 The international program that will begin in March 2021 and has a duration of 60 hours of virtual classes, will have the facilitators Karil Taveras, Jesús Izquierdo, Felipe Rodríguez, Jorge Sanz, Raquel Pérez, Yamil Alburquerque and David Pérez, a faculty with experience teacher in business schools and universities of high international profile.
Academic Offer
In January INTEC will give the International Diploma in Fundraising Strategies, the Advanced Nutrition course for Sustainable Wellbeing and the Risk-Based Audit Diploma.
In addition, in February-March the first round of the Diploma in Corporate Communication will begin, and the Seminar Workshop Strategic Budget of Human Management, the Diploma in Design and Management of Public-Private Partnerships and the Diploma in Capital Markets.
As well as the Advanced Diplomas in Obesity and Psychology; in Agile Project Management; in Sports Psychology; Advanced in Lean 6-Sigma Black Belt; Technology Tools for Teaching and the High Impact Sales workshop with Virtual Tools.
For more information write to This e-mail address is being protected from spambots. You need JavaScript enabled to view it. or call the contacts 809-601-7525 / 829-717-9310 / 829-717-9286 / 829-864-2791.