INTEC laboratories manufacture reusable masks for medical personnel; request support for supplies
A team of collaborators, students and graduates of INTEC manufactures face shields for medical personnel attending to cases of Coronavirus COVID-19; Has delivered over 700 and received many orders
SANTO DOMINGO. A team of students, collaborators and graduates of Instituto Tecnológico de Santo Domingo (INTEC) has dedicated the days of the national quarantine to make protective masks face to free delivery to health personnel that works with confirmed cases of the Coronavirus COVID-19 in the country.
So far, young people have delivered around 700 masks or face shields to the medical personnel of the Francisco Moscoso Puello Hospital, Corominas Pepín Medical Center, Central Hospital of the Armed Forces and the Doctor Darío Contreras University Teaching Hospital. They request the support of companies and institutions that they can donate the necessary supplies to continue production or the funds to acquire them. The interested in donating can communicate to the number 809-567-9271 and check option 1.
For manufacturing, they use the Industrial Processes laboratories, Makerspace and the Haas Tecnical Center of INTEC, from where they manufacture and assemble the models that have been published on open source or free access platforms worldwide, which were slightly modified by the equipment to streamline its manufacturing in the country. The masks are comfortable and light enough to be used throughout the day, and reusable with the necessary prior sterilization. They are for personal use, and do not exempt the user from frequent hand washing and avoiding touching their faces.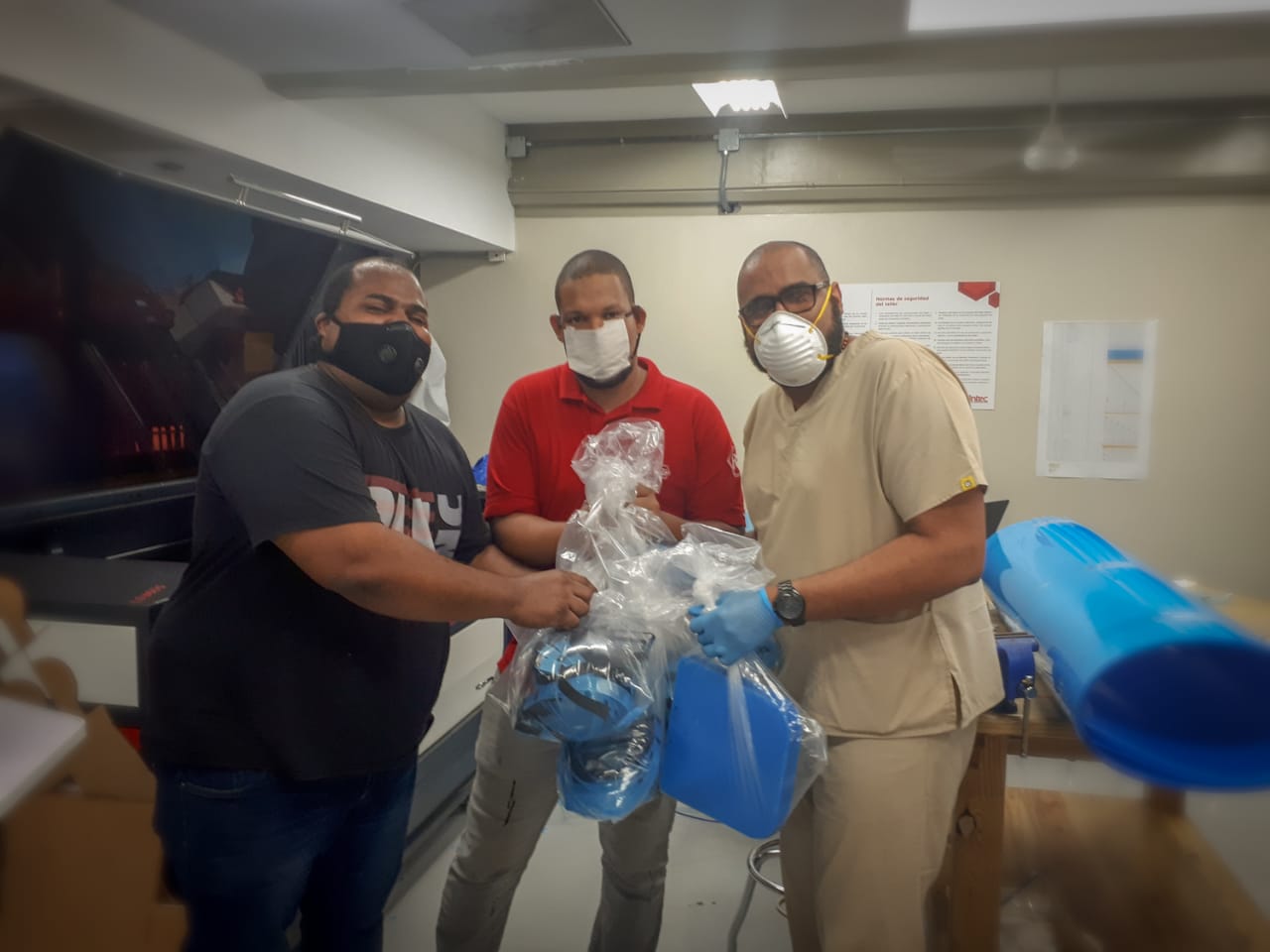 Pedro Disla, coordinator of the INTEC Haas Tecnical Center Laboratory, explained that the team has the capacity to deliver 150 screens per day, amount that they have not been able to overcome due to the limitations imposed by the national curfew. Each has an approximate cost of RD $ 100 in raw materials.
Disla explained that they deliver the masks to the requesting centers for free and that they have received orders from different hospitals in the country, which they hope to supply in the coming days, based on the availability of the raw material. In manufacturing, they use acetate plates 0.5 and 0.8, which are molded into the 3D printers available to the university, and then assembled by the team of volunteers.
The team that makes the masks, made up of professionals from mechatronic engineering, programming, industrial design, and other areas, has received the support of several companies and institutions, as well as individuals who have collaborated with supplies, including: Rotary Club Santo Domingo Mirador, Plasticos Comerciales, Mercería Dumé y Multigestiones Ayax, SA
The effort of INTEC professionals joins that of other groups and institutions that also manufacture protectors for medical personnel, taking advantage of the open access design available.
On March 11, the World Health Organization (WHO) declared the outbreak of Coronavirus COVID-19 as a pandemic, which to date has caused more than 55,000 deaths, with more than a million confirmed cases worldwide. In the Dominican Republic, the Coronavirus COVID-19 has killed 68 people, with 1,488 confirmed cases and 16 people recovered.