History
The first conversations that led to founding INTEC took place in April - May of the year 1971 in the city of Santiago de los Caballeros, when a group of university lecturers gathered with the concern of creating "a small institution mainly oriented to offer postgraduate studies in non-traditional areas, permanent education programs, programs for executive and research. "
That 31 of August of 1972, moved by ideas of change that arouse in our country, these recognized the need to create a new academic institution "focused on strengthening a scientific-technological-cultural infrastructure, able to sustain independent economic and social development" .
Founders
Ramón de la Antigua Flores
Eva Teresa de Jesús Gómez
Felix E. Forestieri Sanabia
Miguel Angel Heredia Bonetti
Rafael Emilio Martínez Cespedes
Luis R. Del Castillo Morales
This concern materialized with three postgraduate programs on October 9, 1972: Industrial Engineering, Economics and Business Administration, after countless efforts made by the group, like obtaining a loan of 900 pesos from the Fundación de Crédito Educativo, borrowed classrooms from the Dominican elementary school of La Salle and of their own personal contributions, making INTEC the first institution in the country to offer postgraduate degrees.
Less than a year later, in July 1973, seven undergraduate programs were added to the offer: Civil Engineering, Industrial Engineering, Medicine, Economics, Administration, Accounting and Social Sciences.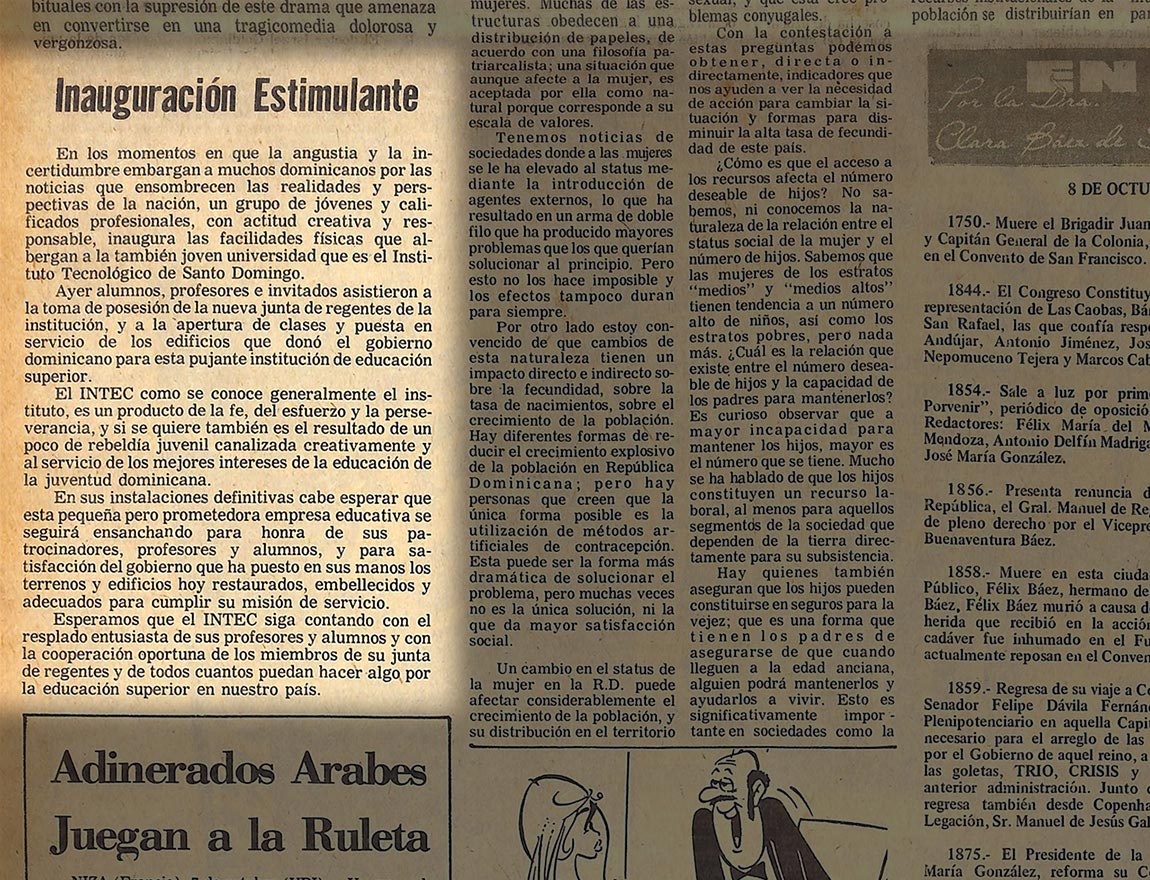 The growth of the bachelor's degree was slow. At the end of the second term, according to the Academic Regulations academic withdrawal was applied; 60% of the undergraduate student population was left out of INTEC. This exodus affirmed INTEC's reputation as an institution with high standards.
By the year 1980, INTEC had already consolidated its image as an institution with a vocation for quality; it enjoyed widespread acceptance in Dominican society. The demand for its graduates placed INTEC in a position of leadership within higher education institutions in Dominican Republic.
During that decade, INTEC was devoted to institutional development. An expansion and development project presented to the Inter-American Development Bank (IDB) and subsequently approved by it, contributed to position it as an university of excellence. Thus, a profound curricular reform with an innovative design by cycles is carried out. A development plan for teachers is placed into action according to the requirements of the new curriculum. With the support of international consultancies, a new style was given to the institution: the curricular offer, as well as the research projects and the services offered, were extended.
Over the years, INTEC has achieved a consolidation that has implied not only a physical and quantitative growth but also an affirmation through qualitative achievements that have turned it into a university of very high reputation.
It is the first Dominican university to receive accreditation from the Dominican Association for Self-study and Accreditation (ADAAC) with participating evaluators from sister countries. INTEC plans its future taking as a frame of reference national and international accreditation standards.
Since 2006, in order to make a better selection for admission to highly demanded undergraduate careers, the application of the Academic Aptitude Test, PAA, of the College Board, which allows for internationally comparable entry standards, is initiated.
INTEC has cultivated its international vocation through participation in university organizations, teacher and student mobility, the realization of institutional agreements and increasingly with greater emphasis, through the internationalization of the programs it offers.
Our Anthem
Confidently face the future
raising the INTEC banner,
with science, service and study
that of man are a guide for good.
Work is effort and is constancy,
of the bee we learn its tenacity,
and nuances fixed on their wings
they open furrows of life, faith and love.
Comrades, let's hope
that the earth is urging with its voice.
Youth that is known destined
to forge a new society;
youth, forward, that in the soul
The fruits of peace have already sprung up.
From the deepest voices of this space
the plural ideas of knowledge
they flow, they beat, they become hands,
that at the top they conform to INTEC.
Letter: Dr. Ida Hernández Caamaño. Writer and linked to INTEC by many añI'm coming to occupy the position of Dean of Community Services.
Music: Manuel Rueda. Poet, pianist and dramatist.